Jennifer Byrne, CEO of Javara, sat down with ProofPilot to discuss how to harmonize clinical research with healthcare. The integrated research organization (IRO) model is a novel creation originating from Javara, as is their mission of establishing clinical research as a care option (CRAACO). By forging trusted long-term partnerships with healthcare organizations, IROs ultimately work to optimize the world of clinical trials. From her extensive hands-on industry experience, Jennifer has seen how long-term clinical research participation not only helps patients feel more engaged with their health but also positively informs their chronic conditions even after a trial ends.
Granted, it's true that while healthcare aims to help today's patients, research is designed to benefit patients of the future; however, this misalignment presents an ideal opportunity for us to change the narrative. Patient-centricity has been a growing trend in the pharmaceutical industry and it's key for bridging the gap between both fields. However, before delving into how patient-centricity helps Javara pursue its mission statement, we should first understand the importance of two of the more undervalued components: transparency, and teamwork.
There's no denying that clinical trials have become increasingly complex in recent decades, cluttered with too many standalone solutions and technologies that don't share data effectively among themselves. In response, companies like Jennifer's aim to simplify everything into an integrated standard of care workflow that can streamline not only research practices but healthcare as well. If left unresolved, this complexity can in turn hamper efficient recruitment and conduct of Sponsored research and result in burdensome or even negative health consequences for sites and patients.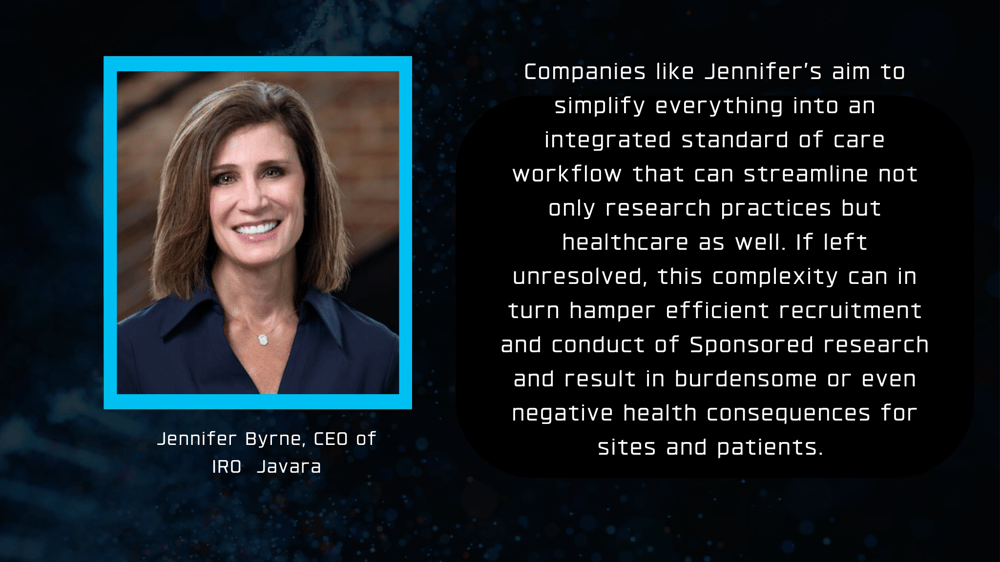 Transparency is the natural antidote here. How can physicians effectively carry out standards of care if critical information and understanding gathered during clinical research are left out of the equation? How can investigators identify the right patient for a study if medical records do not reflect everything that has occurred, including key research procedures? This ability to share key data at the right time will create shared value between both healthcare and research enterprises, which in turn will unlock patient centricity for both.
Our healthcare system hinges on high-performance teamwork, a crucial, yet understated component of patient centricity. In other words, efficient collaboration within and between research and healthcare institutions is non-negotiable. And without data transparency, this level of collaboration would be impossible. We must not forget that critical to this high-performing team is the actual patient. And so true for patient centricity is only met when patients are recognized as equally valuable members of the team, rather than satellite entities needed for data extraction.
Physicians can and will refer patients out of their orbit to investigators, under the right conditions. One of the most effective ways to realize this is for IROs like Javara to promote buy-in at the health system level. When institutions fully support clinical research from the top, any physician in that network can participate without having to jump in with two feet as an investigator. By extension, more patients have democratized access to CRAACO at multiple points of their journey because the overseeing institution could tap into any healthcare professional within their circle of care. IRO models help streamline interactions between physicians, trial patients, and their external providers by implementing those core tenets of patient centricity.
Despite the negative narratives and stigma, Jennifer is hopeful for a future where clinical research and healthcare are closely intertwined. Integrating the two is how we can make highly engaging care delivery experiences accessible to all patients of today and tomorrow.